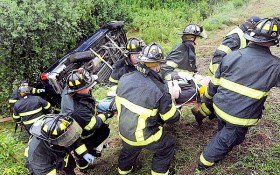 Two Sandy Point residents hurt in car-SUV crash


BANGOR, Maine — Two Sandy Point residents were taken to a Bangor hospital Friday after they were injured in a two-vehicle crash on Odlin Road.

Injured were John Harriman, 36, and Janet Harriman, 37, who were taken to Eastern Maine Medical Center for treatment, Bangor police Lt. Tom Reagan said Friday. Reagan said the accident report indicated that both Harrimans complained of pain at the scene.

Both were treated and later released, according to a nursing supervisor at EMMC Friday night.

John Harriman also suffered an arm injury while Janet Harriman was suffering from pain throughout her body, he said.

Reagan said the accident occurred about 4 p.m. at a curved section of Odlin Road, between Telford Road and the entrance to the Ground Round Grill & Bar.

Amanda Gray, 22, of Corinth told officers that she was traveling east in her 2000 Hyundai when she glanced away from the roadway briefly, Reagan said. When she looked up again, her car had traveled across the centerline into the path of the Harrimans' 1996 Ford SUV, he said.

The two vehicles collided and left the roadway, with the SUV rolling down an embankment and coming to a rest on its side, the lieutenant said.

Reagan said Gray was not injured, but her car had about $2,000 in damage. The SUV was demolished.

Reagan also said that Gray was wearing her seat belt but that it was not immediately clear whether either of the Harrimans was. The accident remained under investigation Friday night.
Responding to the Crash: Engine 1, Rescue 1, Engine 6, Heavy Rescue 1, Capital Ambulance