Ladder 1 Mutual Aid - Church Fire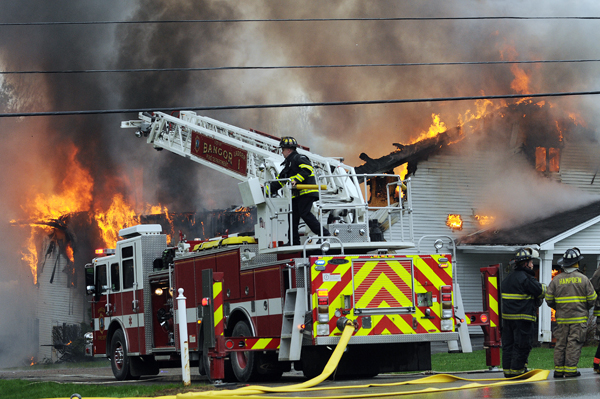 Man dead in fire at Winterport church
WINTERPORT, Maine — Firefighters responding to reports of smoke coming from the Calvary Apostolic Church on Thursday morning made a grim discovery — the charred body of an adult male just outside the building.
The unidentified man apparently had tried to escape from the still-burning structure by jumping out a window, officials said.
A car registered to a young man who recently began attending the church was found in the parking lot and he has not been located, according to Department of Public Safety spokesman Stephen McCausland. The body will undergo an autopsy on Friday at the state medical examiner's office in
Augusta
to determine whether it is indeed the missing man.
As firefighters continued to douse flames early Thursday afternoon, Winterport Fire Chief Thomas Doe said the fire's cause and origin were unknown.
Investigators with the State Fire Marshal's Office responded within two hours and spent most of the day sorting through the remnants of the church.
Only two walls of the church remained standing late Thursday and they are scheduled to be demolished on Friday when fire marshal investigators return to the scene, McCausland said.
Doe said there was nothing to indicate that the fire was suspicious, but he also said the damage may end up being too extensive to answer some of the investigators' questions.
The fire started inside the church, on U.S. Route 1A just north of Winterport Village, at about 10 a.m., Doe said. A couple driving by saw smoke coming from the building and called officials.
When the first crews arrived on the scene, Doe said they saw only light smoke. When they approached the front door of the building, though, they saw much darker smoke and orange flames peeking through.
"We elected not to enter," the chief said. Before long, the expansive roof collapsed and firefighters focused on containing the flames rather than saving the structure.
By 11 a.m., numerous witnesses and members of the church had gathered. The heat from the fire could be felt from the street. Many wore looks of concern. Few wanted to talk about what had happened.
In addition to Winterport, firefighters responded from neighboring communities as far away as
Bangor
and Stockton Springs. Thick black smoke mixed with fog through the late morning and early afternoon hours and slowed traffic along busy Route 1A.