This is why we do what we do
Posted
Sept. 06, 2011,
at
5:11 p.m.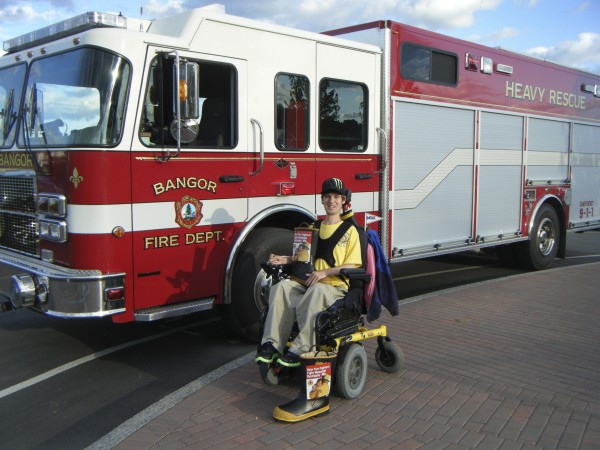 When the 46th annual MDA Labor Day Telethon was broadcast for just six hours on Sunday, Sept. 4, it was the first time in the lives of many Americans 45 and younger that the program was not an all-day marathon fundraiser starring comedian Jerry Lewis and televised on Labor Day.
And while it was the hope of the Muscular Dystrophy Association, according to its website, that the new format would draw more viewers in its prime time slot and that it would be fast-paced and jam-packed with top-notch entertainment, the reality is that those who have supported the MDA for years will continue to do so no matter when or for how long the telethon is aired.
Take 25-year-old Adam MacDonald of Presque Isle, for example.
First diagnosed with Duchenne muscular dystrophy in 1990 while living in South Carolina, MacDonald was part of the MDA telethon broadcast by WABI-TV in Bangor for 20 years and has been part of MDA fundraisers for 22 years, serving as a state poster child for both Maine and South Carolina.
He also has served as a goodwill ambassador for MDA and is a Duchenne Muscular Dystrophy Pioneer, being an older male still surviving DMD, explained his mother, Cheryl Markey.
Cheryl contacted me recently to let readers know of the much-appreciated efforts of Bangor Fire Department firefighters who "have been outside the gates" at the Bangor Waterfront Concert series, standing with their boots and asking for donations for the International Fire Fighters Association MDA Fill the Boot campaign.
For MacDonald and his mother, saying goodbye to the telethon meant focusing on other fundraisers to support the work of MDA to find a cure for this disease. The Bangor firefighters' Fill the Boot campaign came to mind when Cheryl acquired tickets for MacDonald to attend the Bangor Waterfront Concert series starring Toby Keith and learned that the fire department would be there collecting funds for MDA.
With permission from the local MDA office, and with the help of the Bangor Fill the Boot representative, Ryan Blanchette, "Adam was there volunteering alongside them at the Toby Keith concert," Markey said, adding her praise for the efforts of the local firefighters to support the work of MDA.
MacDonald also was with the Bangor firefighters, in the rain, to help Fill the Boot at the Jeff Dunham show.
In addition to volunteering for the Fill the Boot campaign, MacDonald is preparing to celebrate his 26th birthday on Oct. 20 by continuing an effort he began two years ago when he tried to raise $2,400 for his 24th birthday and, last year, raise $2,500 for his 25th Birthday for CureDuchenne, a California-based, grass-roots, nonprofit organization founded in 2002 by parents of a boy with DMD.
While MacDonald raised only $350 that first year, his 25th birthday wish was more than fulfilled when, with the help of many others, he raised nearly $10,000 for CureDuchenne.
MacDonald has had a difficult year physically, nearly losing his life during two respiratory-arrest episodes after an appendectomy, but he rallied and is eager to continue the fight not only to help find a cure for this now incurable form of muscular dystrophy, but also to become a DMD survivor himself.
To give to or share Adam MacDonald's Birthday Wish, follow the link below:
http://wishes.causes.com/wishes/354628?bws=email_to_friends&m=d75f183f.
You also can send your donation to Adam at 17 State St., Presque Isle 04769, and he will make your donation online.