A-Crew 2- Alarm Fire - Center Street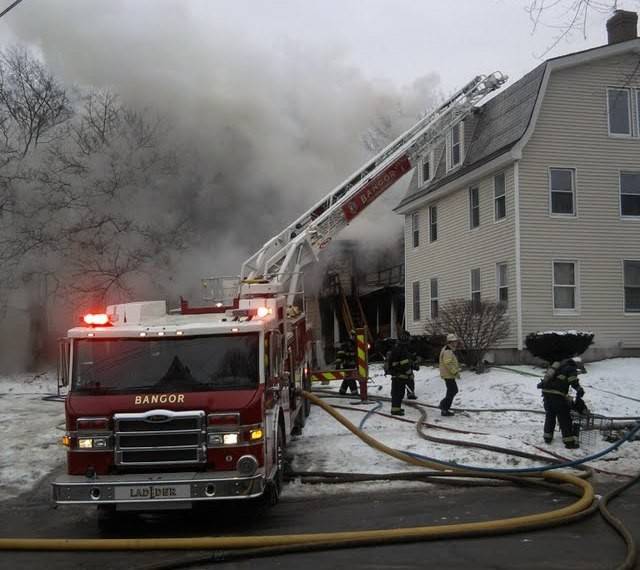 Residents describe escape from apartment house fire in Bangor
BANGOR, Maine — Someone yelling, "Call 911! Call 911!" early Monday morning woke Amy Littlefield and Bill Watson from their slumber, and within minutes a fast-moving fire engulfed their second-floor apartment on Center Street.
"I couldn't see. I couldn't breathe," Littlefield said standing across the street from 240 Center St. an hour or so later. "We woke up to the lady out back screaming there was a fire downstairs."
Littlefield was in pajama bottoms, a pink sweater and Watson's jacket. Her boyfriend stood beside her wearing a jacket and black boots without shoelaces.
The couple grabbed two cats, Hope and Isis, but had to leave one behind. The smoke forced them to leave without Princess Tiger Lily. "By the time we called 911 the flames were everywhere," Littlefield said. "We couldn't see."
Seven engines, including the ladder truck and other equipment from Bangor Fire Department, arrived at the multi-unit apartment building fire shortly after the 7:45 a.m. 911 call, and firefighters quickly ensured residents were out of the 2½-story apartment house.
"Everybody is out safe," Assistant Chief Vance Tripp said at the scene. An unconfirmed report said that two people were transported to an area hospital for treatment of smoke inhalation.
The State Fire Marshal's Office was called in to investigate the cause of the fire.
The five-unit apartment building is located on the corner on Center and McKinley streets. Center Street, between St. Joseph Hospital and South Park Street, was blocked with fire equipment.
Members of the Pine Tree Chapter of the American Red Cross arrived at the scene and could be seen assisting those displaced by the fire.
"The Pine Tree Chapter is ready to help eastern and northern Mainers every hour of every day," Erin Merrill, the chapter's executive director, said in a press release. "As the holidays approach and the
weather gets colder, the chapter is responding to more house fires and other local disasters, providing emergency shelter, food, clothing and emotional support."
Monday's fire in Bangor follows two in Hancock County over the weekend. The Pine Tree Chapter helped four people whose home burned on Saturday in Bar Harbor, and on Sunday night four Trenton residents escaped a fire with only the clothes on their backs, the press release said.
Red Cross staff members were helping at least six people who lived at the Center Street apartment building, according to Gretchen O'Grady, emergency services director.
Littlefield said 11 people lived at the apartment house, including five couples, one with a young child who was staying at a relative's.
She said everyone got out safely.
"We grabbed the cats and we ran," Littlefield said. Watson add that the couple got out with little or nothing. "What she got on and what I got on" is all they have, he said.
After Watson and Littlefield left the burning building, a woman who lives across the street welcomed the couple into her warm home.
"I don't know her at all," Watson said. "She just came out and asked if we wanted to come in."
Red Cross volunteers could be seen leading other displaced renters to the woman's home. One man wore no jacket and had only socks on his feet. The group's emergency response vehicle arrived later.
With Christmas just five days away, those who rented apartments in the building also lost presents in the blaze.
"All my kids' Christmas presents are upstairs," Littlefield said. "This is not a good way to start out."