Members work second fire on Third Street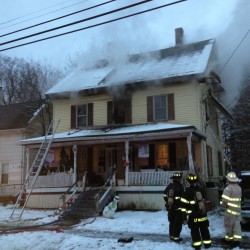 Woman clutches pet rabbit as she watches Third Street home burn
BANGOR, Maine — James and Wendy Shea had just five payments left on the mortgage of their house at 108 Third St. when the second floor and attic were gutted by fire Thursday afternoon.
It was the second fire on Third Street in less than 16 hours. Number 62, an apartment building, was heavily damaged by a blaze reported shortly after midnight, according to the Bangor Fire Department. All five tenants escaped injury.
Shortly after 4 p.m., the Sheas and their tenant, Susan Savage, huddled across the street from the two-story home they shared. They watched and waited while Bangor firefighters knocked out the second story windows after battling back the blaze.
The couple had lived in the house for 29 years, James Shea said.
Beneath her flannel shirt, Wendy Shea held a small, white rabbit against her chest, hoping the rest of her warren had survived.
"There are five adults and four other little ones on the first floor," she said of the rabbits. "I ran in and out twice to try to get them, but the last time I was almost hit by some burning, falling wood."
Once the blaze was out, Assistant Fire Chief Tom Higgins said that his crew had checked on the rabbits on the first floor.
"They're still in their cages and they seem fine," he told reporters.
Higgins said about 9:30 p.m. that one rabbit on the second floor had died, but all those on the first floor had been saved.
James Shea said the fire started about 3:30 p.m. after he had been soldering some pipes in a second-floor bathroom. He went downstairs for supper, then heard the smoke alarms go off.
"I tried to put it out with the hose, but couldn't," Shea said
The homeowner said that his house was not insured.
The earlier fire on Third Street started in a second floor apartment of a three-story building and crews were able to contain it to that unit, Assistant Chief Rick Cheverie said.
"I would say it gutted out [that] entire apartment 100 percent," Cheverie said. "All of the tenants are going to be displaced for the foreseeable future."
The cause of the fire had not been determined as of noon Thursday.
The building's owner, Brandon Donovan of Virginia Beach, has insurance, according to Cheverie.
Higgins said Thursday afternoon that the two fires were not related and their proximity to each other was "a coincidence."
Most of the tenants who lived in the apartment building are staying with friends and relatives in the area, while one has reached out to the Red Cross for assistance, according to Bangor fire officials. The Sheas and Savage reached out to the Red Cross for assistance.