Utility truck rolls over on I-95 in Bangor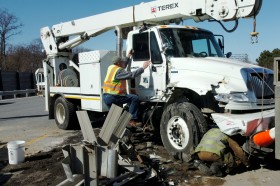 Utility truck rolls over on I-95 in Bangor
From the Bangor Daily News
By Nok-Noi Ricker
BDN Staff
BANGOR, Maine — A local man trying to exit from Interstate 95 onto Broadway early Thursday swerved back into the driving lane to avoid hitting a box truck stopped on the offramp and ended up losing control and rolling his utility truck, police say.
The Bangor Hydro-Electric Co. truck ended up upside down on the guardrail separating the north and southbound lanes just before 8 a.m. and was struck by an SUV heading north that could not avoid it, Maine State Police Trooper Brenda Coolen said later in the morning.
Bangor resident Mark Higgins, 50, was behind the wheel of the utility truck when he came upon the box truck that reportedly appeared to be slowing, but then quickly stopped, she said.
Higgins then had two choices: hit the van going around 45 mph, or swerve back into the empty lane he was just in, the trooper said.
"He swerved into the driving lane and he felt his load shift," Coolen said. "[The truck] went right up on its side, on two tires," and Higgins was no longer able to control it.
The truck cut across both lanes of the highway toward the center guardrail, she said.
"He laid the vehicle right over the guardrail, and a Toyota SUV coming up the passing lane had nowhere to go," Coolen said. The driver of the SUV then "hit his driver's side. It was more like his underside."
Higgins suffered a cut to the top of his head, and the driver of the SUV, Julie Chaffee, 33, of Orrington, was sore but otherwise unhurt, the trooper said. Both were wearing their seat belts and neither needed medical attention.
"The nose of the truck was on the other side of the interstate," said Lamoine resident Mandy Higgins, who drove by the scene as rescue crews and police arrived. She is not related to the truck driver. She said the nose of the utility truck, which was "completely destroyed," was in the southbound lane, but it did not block traffic heading toward Union Street.
Traffic on both sides of I-95 was stopped while debris was removed, then one lane on each side was opened until officers cleared the scene around 10:30 a.m., and both lanes were reopened.
Crews from the Maine Department of Transportation and Bangor Fire Department worked to remove the section of the guardrail that was crushed, and a Bangor police officer assisted with traffic control, the trooper said.
Mark Higgins was thankful that no one was seriously injured, Coolen said.
"He was still shaken from the whole thing," she said. "Witnesses were still shaken, and they weren't even involved. I kept trying to tell him anytime people walk away unhurt, it's not a bad day."