Members respond to car fire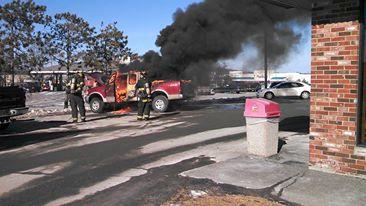 By Ryan McLaughlin, BDN Staff
BANGOR, Maine — A pickup truck was destroyed by fire in a fast-food restaurant parking lot Friday, officials said.
The driver, who Bangor Assistant Fire Chief Rick Cheverie did not identify, was heading through the drive-thru window at Wendy's on Union Street when she saw smoke coming out from under her dashboard.
The driver wisely pulled the truck into a parking space and called 911, Cheverie said.
Firefighters were dispatched to the scene shortly before 11:30 a.m., and arrived to find the truck engulfed in flames.
Cheverie said the blaze was contained in about five minutes. He said a mechanical failure is likely to blame for the fire.
No other vehicles were ever in any danger and the driver was not injured, Cheverie said. The truck was totaled.