B-Crew Working Fire 2/4/10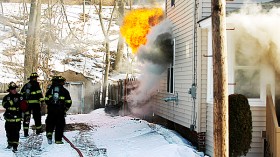 Bangor home damaged by fire
By Dawn Gagnon
BDN Staff
BANGOR, Maine — A fire of unknown cause Thursday afternoon resulted in significant fire and smoke damage to a single-family home at 92 Second St.
The owners, Bruce and Christina Babin, were not at home when the fire began about 2 p.m., according to Assistant Fire Chief Darrell Cyr of the Bangor Fire Department.
The family's small dog Seamus, however, was home, Cyr said.
Shortly after knocking down the fire, firefighters found Seamus inside.
"He was in a crate on the second floor," he said.
The dog appeared to be in good condition when firefighters brought him outside to Bruce Babin, who came home after learning about the fire.
Cyr said Thursday that firefighters had not yet determined what caused the fire but that it appears to have started in an extension at the back of the two-story house, which abuts Second Street Park.
The extension had significant fire damage and the rest of the house had heavy smoke damage, Cyr said.
A dollar estimate for the damage was not immediately available Thursday. Cyr said he did not yet know whether the house was insured.