1/7/10 Station 6 D- Crew Mutual Aid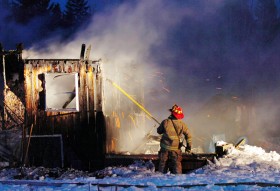 Fire destroys Glenburn home
By Dawn Gagnon
BDN Staff
GLENBURN, Maine — A small one-story home was destroyed Thursday in a fire of unknown origin.
The house at 317 Hudson Road was in flames by the time firefighters arrived about 3:30 p.m., Glenburn Fire Capt. Gene Hamm said at the scene. He said the State Fire Marshal's Office would be asked to help determine the cause.
According to Hamm, no one was home when the fire was reported by a passer-by about 3:30 p.m.
Hamm said he didn't know the owner's name or whether the house was insured. He said the Pine Tree Chapter of the American Red Cross had been called to provide assistance.
Glenburn firefighters were joined at the scene by their counterparts from Bangor, Corinth and Hudson, while crews from Charleston remained on standby, Hamm said. No one was injured while fighting the fire, he said.
Though Hamm said Thursday's cold conditions had not posed any significant challenges for fire crews, the frigid air did cause water used to extinguish the blaze to freeze on a section of Hudson Road close to the fire, as well as on the long dirt driveway leading to the burning house. The ice made walking treacherous.