20130909 - Brother Charlie Bamford (ret.)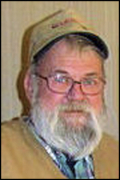 BANGOR AND HERMON - Charles "Charlie" A. Bamford, 72, passed away Sept. 9, 2013, at the Maine Veterans Home in Bangor. He was born Sept. 8, 1941, in Brewer, the son of Carroll O. and Cora M. (Legere) Bamford.
Charlie served his country in the U. S. Navy for four years. He then served in the Naval Reserves and the Air National Guard for another 21 years. Charlie worked for the Bangor Fire Department for 20 years until he retired. In retirement, Charlie enjoyed puttering on his farm in Hermon.
He is survived by his children, Carl Bamford and wife, Michele, of Mason, Ohio, Carol Tyrrell and husband, Larry, of Park City, Utah, Christine Blowers and husband, John, of Woodbine, Md.; grandchildren, Jessica and Drew Bamford, MacLaren Tyrrell, and Bryan Blowers, and many friends.
Funeral services will be held 10 a.m. Thursday, Sept. 12, in the chapel of the Maine Veterans Memorial Cemetery, 163 Mt. Vernon Road, Augusta. Gifts in his memory may be made to the Bangor Fireman's Relief Association, 289 Main St., Bangor, ME 04401. A service of Brookings-Smith, Bangor. Condolences to the family may be expressed at www.BrookingsSmith.com.
Published in BDN Maine on Sept. 11, 2013