C-Crew Tank Truck Roll-Over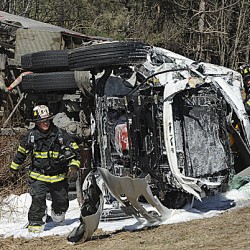 Fuel truck accident snarls traffic on I-395 in Bangor
By Jamison Cocklin and Eric Russell,BDN Staff
BANGOR, Maine — An 18-wheeler hauling 6,000 gallons of diesel fuel rolled over Friday afternoon and crashed through a guardrail on the Interstate 395 offramp to U.S. Route 202, forcing the ramp to close and prompting a cleanup effort expected to last into Saturday.
The impact of the crash punctured the attached tanker the truck was hauling and an estimated 700 gallons of the fuel was unaccounted for, according to Darian Higgins, who was on the scene for the
Maine Department of Environmental Protection
to assess the situation and monitor the cleanup effort.
It was unclear what caused the accident.
Although the R.H. Foster truck was mangled from the crash and lying on its side in a ditch just off the ramp, the driver was uninjured and managed to crawl from the wreckage. He was awaiting first responders when they arrived on the scene, according to Capt. Dennis Nadeau of the Bangor Fire Department. No other vehicles were involved in the incident.
Officials did not release the name of the driver.
At around 6 p.m., crews from Clean Harbors, a local cleanup contractor, were working to raise the tanker onto its wheels with a large excavator in order to remove any fuel still left inside.
Police and fire officials, along with the Orono Regional Response Team, a local hazardous materials crew, and representatives from the Maine
Department of Environmental Protection
went to the accident scene. An empty tanker truck was brought to the scene to offload 5,300 gallons of fuel from the wrecked tanker.
Higgins estimated that around 700 gallons were unaccounted for, with some remaining in the truck's fuel tanks and the rest having seeped into the ground. The Orono Regional Response Team assisted DEP crew members in cleaning up a small amount of contaminated soil and fuel on the ground's surface.
The next step will be to remove the contaminated soil surrounding the crash site and then backfill the area with clean soil, Higgins said. Primary cleanup efforts are expected to take place early Saturday, and Higgins said he expects them to be complete sometime the same day, which will allow the offramp to reopen.
According to Robert Tracy, executive vice president of R.H. Foster, who was also at the scene, the truck was headed to Hampden when the accident occurred. He did not know how much of the salvaged fuel still could be sold because it was contaminated with water during drilling to pump fuel from the wrecked tanker.
Tracy said his primary concern was for the safety of the driver and getting the spill contained as quickly as possible. He said the driver was taken to the hospital as a precaution and since has been released.
The incident also closed the ramp from Route 202 onto I-395 and affected westbound traffic on I-395.
The ramp was open to traffic Saturday morning.