Local 772 Firefighters raise funds for MDA in Maine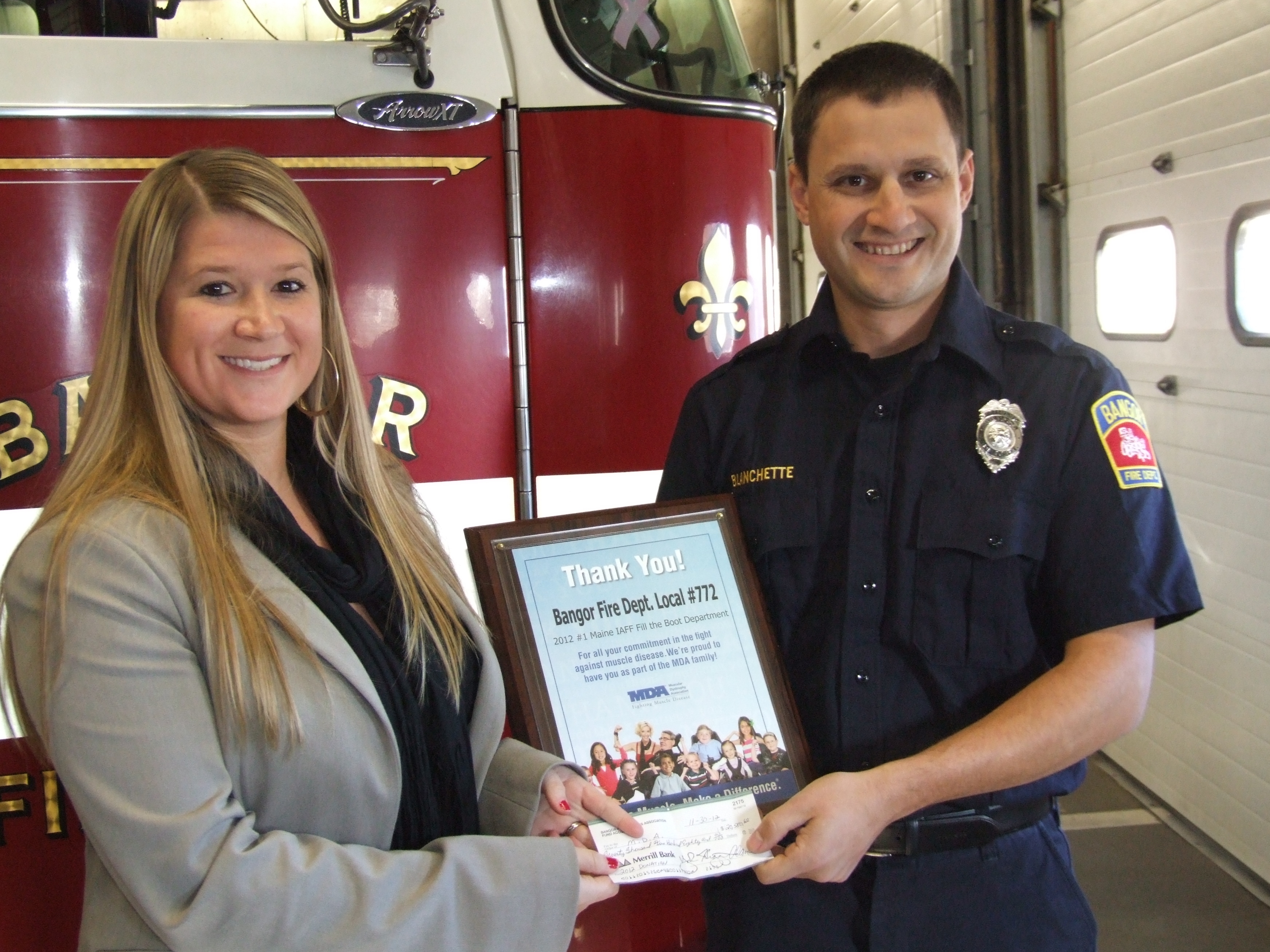 Firefighters raise funds for MDA in Maine
People shopping for holiday bargains at the Bangor Mall on Black Friday, Nov. 23 helped Bangor firefighters raise money to support the Muscular Dystrophy Association.
So did music fans who attended several Waterfront Concerts in Bangor this year.
According to Ryan Blanchette, a firefighter/paramedic with the Bangor Fire Department, the International Association of Firefighters sponsors "a countrywide drive for the Muscular Dystrophy Association," which has a field office in Westbrook. The IAFF has supported the MDA since the 1950s, he said, and various Maine fire departments support the annual drive.
This year Bangor firefighters "took actual [firefighters'] boots to different places" and "asked people to help fill them to fight muscular dystrophy," Blanchette said. Firefighters placed boots outside the Waterfront Concerts' main gate and raised about $10,000 last summer.
On Black Friday, firefighters "stood at the intersection of Bangor Mall Boulevard and Hogan Road and went window to window" to ask drivers idling at the traffic light if they would help support the MDA, Blanchette said. Volunteering on their day off, firefighters raised $10,487, including "more than $1,600 in spare change, he said.
At Bangor's Central Fire Station on Friday, Nov. 30, Blanchette presented a check for $20,580.60 to Ashley Bolton, executive director of the MDA in Maine. "It's tremendous," she said, describing the positive impact that the funds will have on MDA activities in the state.
According to Bolton, the funds will help:
• Provide free flu shots "for the families that we serve";
• Repair such durable medical equipment as leg braces and wheelchairs;
• Fund a monthly clinic at the Eastern Maine Healthcare Mall on Union Street;
• Fund a monthly support group;
• Help operate a free summer camp for MDA patients ages 6-17;
• Provide at-home consultations;
• Fund advocacy, education, and research efforts.
"That's what's great about the money we raise; all of it stays right here in Maine," Blanchette said.
"In one way or another, almost everybody [in the Bangor Fire Department] has been involved [with the MDA fund-raising] over the years," he said. The effort "has received great support from upper management here" by equipment and manpower [be used] as needed."
This year marked the third time that the Bangor Fire Department has raised more than $20,000 for the MDA, Blanchette noted.
According to Bolton, the Muscular Dystrophy Association "is the nonprofit health agency dedicated to curing muscular dystrophy, ALS, and related diseases by funding worldwide research.
"Over the years, MDA has led the fight against ALS (or amyotrophic lateral sclerosis, also known as 'Lou Gehrig's disease')" by "investing more than $290 million in its ALS research, services, and information programs," she said.
Donations to the Muscular Dystrophy Association can be mailed to Muscular Dystrophy Association Inc., Sebago Commons, 39 Mechanic St., #100, Westbrook, ME 04092. For more information about muscular dystrophy or ALS, log onto www.mdausa.org.