C-Crew Fatal MVA 11/11/09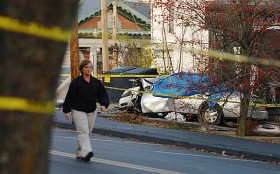 1 killed, 1 injured in Bangor accident

By Nok-Noi Ricker
BDN Staff
BANGOR, Maine — A Bangor man with a history of speeding violations ran a red light at the corner of Hammond and Ohio streets around 2 p.m. Wednesday and crashed his Cadillac into a building on a sharp corner on High Street, according to eyewitnesses.
James Blakeman, 23, was killed instantly, Bangor police Lt. Jeff Millard said later in the day.
A male passenger in the car was taken to Eastern Maine Medical Center with life-threatening injuries, he said. No other details about the passenger, including his age, were available.
"It looked like it [must have been] going 80 to 100 miles per hour," said Barbara Sampson of Kenduskeag, who watched as the car sped through the intersection, then heard the crash while she was at the nearby Leadbetter's convenience store.
When she heard the sound, "my insides said someone's dead," she said.
Sampson, who is a nurse, ran to where the Cadillac DeVille had crashed into the building at 40 High St. and found the driver, whom she described as a young man, dead.
She said the passenger "was breathing" and "was half in the front and half in the back." Sampson could not tell whether the person, who was dressed in jeans and a big parka, was male or female.
An older couple and another woman also ran to the car and wanted to move the injured person.
"I said, 'Don't move him,'" Sampson recalled. "I told him to hold on."
Shortly afterward an ambulance crew arrived and took the passenger to EMMC.
It didn't appear that seat belts were used, and the car looked like it had spun around after crashing into the porch area of the huge brown and green building, Sampson said.
The Bangor Police Department's accident reconstruction team and State Police Criminal Investigations Division detectives, along with personnel from the State Medical Examiner's Office, were investigating the accident late Wednesday afternoon.
High Street between Union and Ohio streets was closed while the investigation was conducted.
Blakeman's driving record lists a number of citations for speeding, operating an unregistered vehicle and operating while under suspension, according to court records and articles printed in the Bangor Daily News.
Blakeman was stopped in Holden by Officer Chris Greeley in April 2006 for an expired inspection sticker. At that time, Greeley said, "He has 10 convictions for speeding, insurance problems" and other issues. "He is currently under suspension, times four, and he's only 19."
The witness to Wednesday's crash, who did not know Blakeman, said it was careless of the driver to be going so fast. A vehicle "is a deadly weapon," she said.
"It's very sad, a waste of life," Sampson said. "I pray for the family."