Bangor firefighters to participate in Black Friday Fill the Boot for MDA
Updated On: Dec 360, 2014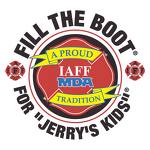 BANGOR, Maine – Members of the Bangor Fire Department Local 772, along with families served by the Muscular Dystrophy Association, will host the annual firefighters' Black Friday Fill the Boot fundraising campaign to benefit children and adults affected by muscle disease throughout the Bangor area.
The Bangor Fire Department will hold its annual Black Friday Fill the Boot event 8 a.m.-noon Friday, Nov. 28, at Hogan Road and Bangor Mall Boulevard.
The firefighters have fueled MDA's mission to find treatments and cures for life-threatening muscle diseases for six decades.
Funds raised through the 2014 Bangor Fill the Boot will help support MDA's efforts to advocate for individuals and families affected by muscle disease; rally communities to fight back; and assist families with lifesaving help and day-to-day support – which includes sending children affected by muscular dystrophy and related diseases to a weeklong, barrier-free MDA summer camp at Camp Waban in Sanford.
The Fill the Boot campaign also helps support MDA's worldwide research program and national network of 200 specialized medical clinics, including the MDA Clinic at Eastern Maine Medical Center Bangor.