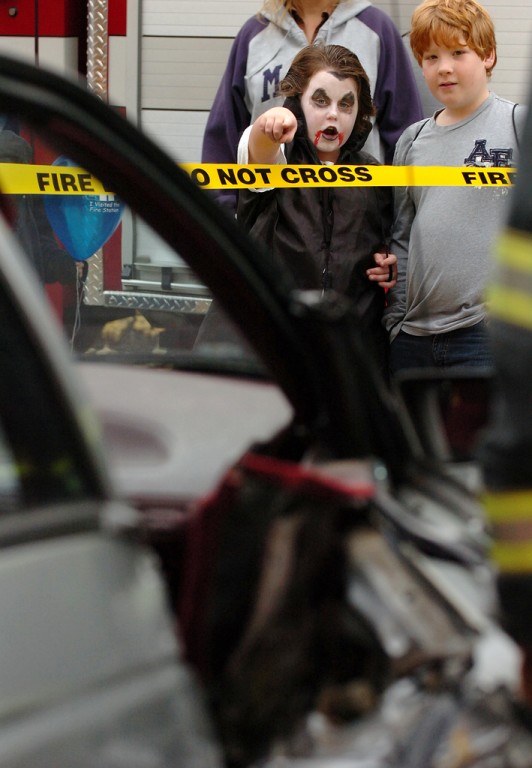 Firehouse fun teaches safety, prevention

BANGOR, Maine — Once the Jaws of Life got to it, the gray Chevrolet Lumina had no chance. Two Bangor firefighters operated the hydraulic rescue tool, tearing off the windshield and propping up the dashboard. Shattered glass and car parts were scattered around the demolished vehicle.
It was all much to the delight of five first-grade boys in Den Leader Dalton Reed's Tiger Cub Scout group, who stood with wide eyes as firefighter and EMT Bill Wentworth explained what was going on.
"Now we have access to the whole inside of the car," Wentworth said. "Anybody that's trapped, we can get them out. Pretty amazing, huh?"
Hundreds of children and adults had a chance to see a demonstration of rescue and firefighting equipment as well as pick up safety information Saturday during the Bangor Fire Department's Fire Prevention Month open house, held at the Central Fire Station on Main Street.
Oh, and there was plenty of Halloween candy and a costume contest, too.
Firefighters gave tours of the station's big, shiny, red trucks and ambulances, slid down the station's poles, and pried apart cars in Jaws of Life demonstrations. The Jaws of Life is a tool used by rescue workers to free people trapped in small spaces, such as cars.
There were also displays about heating safety and railroad awareness, along with plenty of information about fire prevention.
"Part of this is for education, and part of this is for fun," said Jake Johnson, the department's public education officer.
In addition to spreading information about fire prevention, Wentworth said, the annual open house also serves to humanize the firefighters, many of whom towered over the youngsters.
"It takes a lot of the fear out for the kids," said Wentworth, who lives in Garland. "They see us here joking around, not in a serious way we are when we're focused on our job."
Reed brought his Tiger Cubs of Bangor-based Den No. 6 to the open house to fulfill a go-see requirement, but it didn't seem like an obligation for the five boys in the pack. After watching the Jaws of Life demonstration behind the firehouse, they followed Wentworth to the front of the station so he could show them different nozzles used to fight car fires.
"This is the perfect opportunity for them to fulfill their requirements," Reed said. "They asked tons of great questions, too."