C-Crew All Hands Fire 5/15/10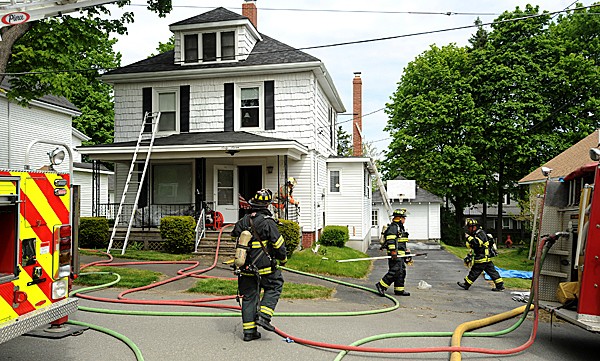 Electrical fire burns Poplar Street home

From Bangor Daily News
BANGOR, Maine — An electrical malfunction was cited as the cause of a Friday morning fire that caused thousands of dollars in damage to a Poplar Street home.
The fire was reported about 10:20 a.m. by a passerby who saw dark smoke coming up around the eaves of the house, located at 67 Poplar St., said Assistant Chief Vance Tripp of the Bangor Fire Department.
"The fire actually started in the ceiling in a hallway on the first floor," Tripp said.
An electrical wire supplying power to a ceiling fixture apparently overheated, sparking a fire that burned up through the floor of the house's second story, Tripp said.
The fire also caused significant damage to rooms on the backside of the house, he said, estimating fire, smoke and water damage to the building and some of its contents at around $50,000.
The homeowners, Howard and Norma Berg, were away when the fire broke out, Tripp said. He said no firefighters were injured in connection with the fire.