20150407 - Brother Fred Manzo, Jr.
Updated On: Oct 304, 2015
We will forever mourn the sudden loss of our Brother Fred Manzo, Jr. on April 7th, 2015.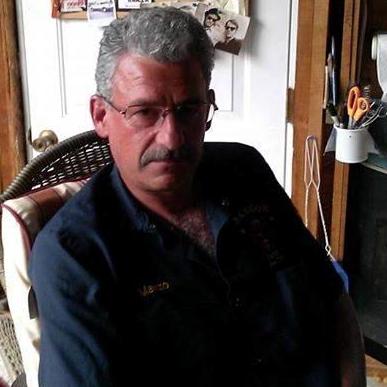 BANGOR - Frederick Peter Manzo, Jr., 48, died unexpectedly April 7, 2015 at his home. He was born in Millinocket, August 5, 1966, son of Frederick Peter Manzo, Sr. and Carol Jean (Cormier) Manzo.
Fred has been a master mechanic for the past 24 years and worked at Bangor Dodge for most of those years. The past 4 years he has worked for the Bangor Fire Department where he loved the challenge of working on the fire trucks and other equipment. This was a new learning experience for him. While working at BFD he made many friends and some he would call his work dads, Jeff Cammack and Tom Higgins.
Fred had been a member of the Bangor Elks Club for 12 years.
Surviving are his long time love, Teri Derouin of Bangor; mother, Carol Manzo of Bangor, father Fred Manzo and his wife, Kathy of Millinocket; sisters, Jaylene Wedge of Ellsworth, Dee Wilson and her husband Cal of Millinocket; niece, Angela Manzo of Ellsworth; step children, Amber Lingley and her husband Billy of Levant, Joe Derouin of Brewer and Mark Derouin and his wife Brandie of Carmel; grandchildren, Nathan and Ethan, Jordan and Mya, Jaddah, Dom and Lexi; great niece and nephews, Jada, Jeremy and Derek of Ellsworth; special niece, Kaitlyn Burns of Bangor; mother-in-law, Sarah Kenney of Bangor, whom he called, "Hot Ma." Fred also leaves behind many people that cared about him. Special childhood friends, Pat Burns of Bangor, Byron Dunbar of Hermon, Jamie Harring of Millinocket, Ron Hartley of Millinocket, Kip McLaughlin of Rhode Island, and Bruce Johnson; his two dogs, Fredo and Dino that will miss him. Fred loved his friends and family and will be greatly missed by those who knew him.
He was predeceased by his beloved dog, Carmela.
Services were held from 3-5 p.m. on Sunday April 12, 2015 at the Family Reception Center of Brookings-Smith, 163 Center St. Bangor, with the Traditional Bell Ringing Ceremony by the Bangor Fire Department Honor Guard to be held at 4:30 p.m.
Those wishing to remember Fred in a special way may contribute in his memory to the Bangor Humane Society, 693 Mt. Hope Av., Bangor, ME. 04401.
Published in BDN Maine on Apr. 9, 2015