Blue Mass at Bangor church honors first responders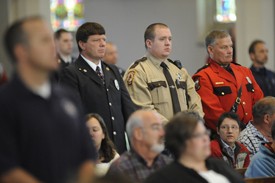 Blue Mass at Bangor church honors first responders



BANGOR, Maine — Lt. Lamont Ouellette of the East Millinocket Fire Department very seldom misses a weekend Mass in his home parish, Christ the Divine Mercy.
Sunday morning, however, Ouellette put on his dark blue dress uniform and drove more than 60 miles south to attend Mass at St. John Catholic Church. He was one of more than 50 firefighters, police officers, game wardens and emergency medical technicians to attend the Blue Mass held in their honor. The church was nearly full.
It was the fourth annual Mass held to honor first responders but the first to be celebrated in Bangor. In previous years, the service has been held at the Basilica of Sts. Peter and Paul in Lewiston.
"Thank you for your faithful commitment to our people," Bishop Richard J. Malone said in his sermon Sunday. "We thank God for you."
The first Blue Mass to honor police officers and firefighters was held Sept. 29, 1934, at St. Patrick Catholic Church in Washington, D.C., according to the Knights of Columbus. The Rev. Thomas Dade of the Archdiocese of Baltimore initiated the celebration for the Catholic Police and Firemen's Society while serving at St. Patrick's in the nation's capital.
While the tradition remained common in the Northeast, dioceses around the country adopted it eight years ago. It is held in September to honor the first responders who died on Sept. 11, 2001, Malone said Sunday.
"Too often we grow complacent, and that is a tribute to you," the bishop said in his homily. "You make us feel safe. You do your jobs so well that we probably take you for granted most of the time.
"You are heroes not just in dramatic ways," Malone continued, "but because of what you do every day — to be there for the rest of us. What you do, even though you do not think of it this way, is a way of loving the people of this state. It is the kind of love Jesus calls us to share."
Firetrucks, ambulances and police cars lined York Street. Across from the heavy, wooden front doors to the Gothic-style church, a large American flag hung from the extended ladders of two trucks facing each other. Many participants crossed under it as they headed to their cars or homes.
Many, but not all, honored at the Mass were outfitted in the dark blue uniform worn by most police officers across the country. Game wardens wore their bright-red dress uniforms while members of the Maine State Police Pipe and Drum Unit wore kilts made of a light-blue tartan. Personnel from the Penobscot County Sheriff's Office were dressed in dark or light brown depending on their rank.
Many worshippers shook the honorees' hands and thanked them as they left the church.
"We don't look for this," Robert Lepari, a Bangor firefighter, said as he paused while photographing the equipment on York Street, "but we really appreciate this kind of event from the church and the people."
Lepari, who lives in Bangor, said he and his family regularly attend Mass at St. John's.
"Faith is our moral compass," Lt. Christopher Martin of the Brewer Police Department said after the service. "It gets us through the worst of the worst."
Martin lives in Bangor and usually attends St. Mary Catholic Church on Ohio Street in Bangor, he said. He attended the Blue Mass with his 6-year-old daughter, Gabby.
She said the reason her father was honored Sunday was "because he catches bad guys."
U.S. Sen. Susan Collins, a Republican, and U.S. Rep. Mike Michaud, a Democrat, also attended the Mass. Both are practicing Catholics who have attended the Lewiston service in previous years.
The Blue Mass in Bangor is one of three commemorative Masses to be held this year to honor workers in particular professions, according to Sue Bernard, diocesan spokeswoman.
The Red Mass to honor judges, lawyers and others who work in the legal profession will be held at 4:30 p.m. Thursday, Oct. 1, at the Cathedral of the Immaculate Conception in Portland.
The White Mass to honor doctors, nurses and others in the medical profession will be held Feb. 8, 2010, at the basilica in Lewiston. A time for the Mass has not been set.
Last year, a Green Mass for those who work outside or in jobs related to the environment was celebrated for the first time in Millinocket. Bernard said that a Green Mass in 2010 has not yet been scheduled.