B Crew responds to rollover
Woman injured in rollover accident on I-395 exit in Bangor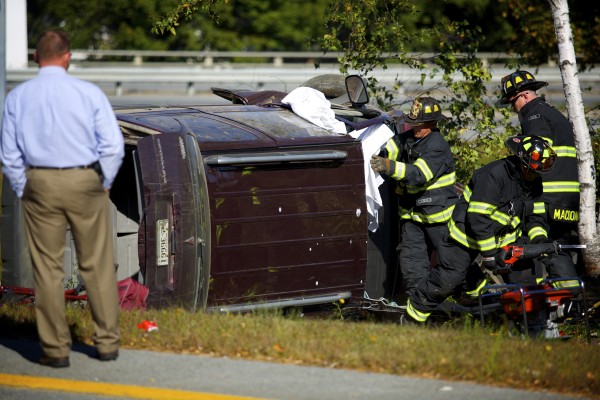 By Ryan McLaughlin, BDN Staff
BANGOR, Maine — A woman was injured Friday afternoon when she lost control of her van on an Interstate 395 ramp, according to police.
The woman, whose name was not immediately available, was believed to be in her mid-60s, State Police Trooper Forrest Simpson said at the scene.
The crash occurred around 2 p.m.
Simpson said the woman was exiting the eastbound lanes of I-395 at the Farm Road ramp when she failed to negotiate a corner, lost control and hit a tree.
The van rolled over onto the passenger side.
Simpson said the vehicle's air bags deployed and the woman was wearing her safety belt, which likely prevented serious injury.
The trooper said the woman's injuries don't appear to be life-threatening, and she was taken from the scene by ambulance to an area hospital, though Simpson was not sure where the driver was being transported.
In addition to state police, Bangor fire and rescue responded to the accident. The Exit 3A ramp was closed for a short period of time while crews cleaned the scene up but has since reopened.