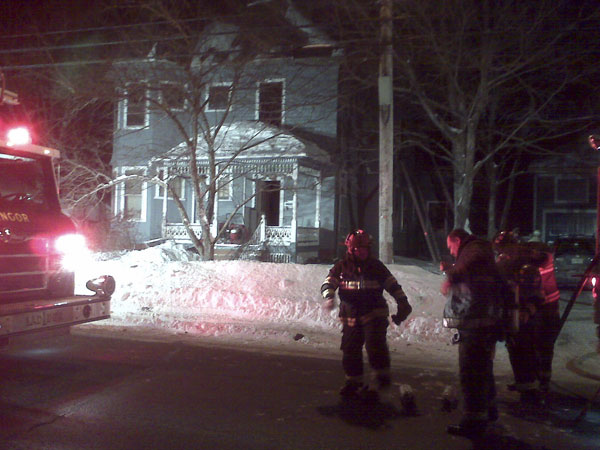 Propane torch explodes, causes fire in Bangor
BANGOR, Maine — A tenant using a propane torch to defrost frozen water pipes Monday evening is lucky to be alive after the device exploded and caught the Center Street home where he lives on fire, Bangor fire Assistant Chief Vance Tripp said Tuesday.
"That's how this whole thing started," he said. "He was very fortunate that he had quick reflexes."
The man is one of two renters who lived at 330 Center St., which is owned by Martin Franklin and caught fire at around 9:30 p.m.
The tenant was using the propane torch to defrost bathroom water pipes on the second floor when he noticed it had "ignited around where the bottle screws into the torch itself," Tripp said. "He ran to the bathroom and the tank was tossed into the tub. At that time, the propane tank itself exploded. That's what caused the fire."
The tenant suffered minor burns to his hands but otherwise was unhurt, he said. The fire spread quickly, and by the time firefighters arrived minutes later, "it was blowing out the second-floor window with 30-foot flames," Tripp said. "It gutted the second floor."
Responding firefighters were told there might be someone inside the building, so they immediately searched the two-story structure.
"We had a report of one individual possibly still inside," Tripp said. "We did do a primary search of the upstairs and downstairs when we got there. Nobody was inside."
The blue home that burned is located across from St. Joseph Hospital on Center Street, which was closed to traffic between Linden and Montgomery streets for several hours while firefighters extinguished the flames.
Nearly 20 firefighters from Bangor battled the fire, which was knocked down in about 35 minutes, Tripp said. The last crew, which investigated the cause, left the scene and returned to their station just after midnight. Investigators from the State Fire Marshal's Office also responded to the call.
"The fire was determined to be accidental," Tripp said. "The tenant was trying to thaw frozen pipes on the second floor. This is a good reminder that you should never use an open flame to thaw out your pipes."
Fire investigators found the remains of the destroyed 1-pound propane cylinder the man was using in the bathtub, he said.
The tenant "had quick reflexes" that probably helped prevent serious injury, Tripp said.