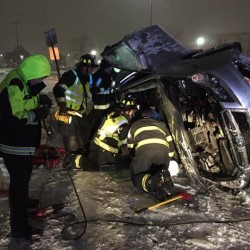 Driver rescued with jaws of life, charged with OUI after flipping car near Bangor Mall
By Mario Moretto, BDN Staff
BANGOR, Maine — A Bangor man was charged with operating under the influence after he was rescued from his overturned car early Thanksgiving morning.
Paul Aucoin, 32, was driving on Bangor Mall Boulevard after leaving a nearby restaurant around 12:45 a.m. Thursday, as heavy, wet snow fell during the year's second major storm event, according the Bangor Police Department officials.
Complete information about the accident was unavailable Thursday afternoon, but Sgt. Larry Webber said Aucoin took a bad turn and struck a coping stone, which caused his 2013 Subaru to turn onto its side.
The vehicle was so badly damaged that rescuers from Bangor Fire Department needed to use the jaws of life to pry the car open and extricate Aucoin. The driver was sent to a local hospital with injuries that were not considered life-threatening, Webber said.
Webber said police suspected drugs, alcohol or both contributed to the accident.
The incident was the only serious motor vehicle accident to occur in Bangor during the overnight storm, Webber said.