Man Hospitalized After Court Street Fire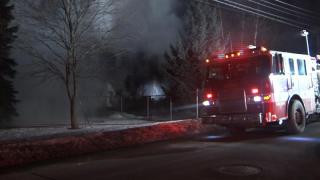 Man Hospitalized After Bangor Fire
---
Bangor - Fire broke out at a house in downtown Bangor Thursday morning.

Court street was closed while fire fighters battled the flames and cold temperatures.

It was a harrowing few minutes for the owner of the home.

"Probably about 1 o'clock, I'm guessing, we got a call for a report of fire coming out of the building here on Court Street," says Bangor Assistant Fire Chief Daryl Cyr.
"We arrived on scene, we did have heavy fire showing from the building. There's fire coming out every window on the first and second floors and through the roof. There was one occupant in the driveway that had jumped out of the building. That occupant has been taken to a hospital."

"We had issues right away with trucks not going into pump gear, valves staying frozen. Right now, now that we're able to get the water flowing, things are going pretty good. The guys are keeping warm, we're kind of watching each other, making sure everybody's OK."

"We'll be here a good portion of the day. There's going to be a lot of digging and ripping and tearing on the interior. I don't know what the inside looks like because we went into defense operations immediately. So, I'm assuming the structure is not stable, so we're going to be doing a lot of digging from the outside."

The Fire Marshal has been called to help with the investigation. It's really too early right now to come up with an origin or a cause."

All-Hands were struck, bringing Hampden and Brewer engine companies to cover the City. Both mutual aid companies answered calls during the fire and Capital Ambulance answered EMS calls.