Bangor firefighters, police coax dog to shore after he had fallen into stream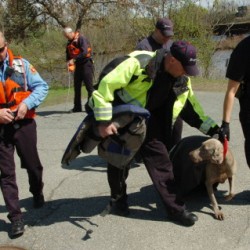 BANGOR, Maine — Bangor firefighters and police officers coxed a dog to shore after he had fallen into the Kenduskeag Stream on Tuesday afternoon.
According to Bangor Fire Dept. Lt. Joseph Doucet, Toro, who wore a Texas dog tag, fell into Kenduskeag Stream near Bagel Central around 2:30 pm while being pursued by his owner.
The current then took Toro downstream near the Kenduskeag Stream pump station off Washington Street where he swam to shore.
Lt. Doucet said the dog was a bit shaken.
After the dog was wrapped in a blanket to warm up, he was helped into Bangor Police patrol officer Jamie Fanning's cruiser.
While driving the dog to the Bangor Humane Society, Officer Fanning encountered an unidentified motorist who took Toro into their car behind the Pickering Square Parking Garage and then drove off.